An upgrade from the older XB400s, the XB450 was created as an improvement to the old design with a new classy metallic finish and some wonderful features. They are actually just very, very large on-ear headphones, generously padded and surprisingly as noise isolating as over ears could be.  Sony MDR-XB450 sports a slim, swivel folding style for easy storage in a bag, briefcase or backpack. It comes with a flat serrated cord for a tangle free experience. Experience richly defined sound with the Extra Bass feature and choose from 5 vivid colours all with a metallic finish. The MDR-XB450 headphone offers extra bass with a frequency response of 5Hz-22000Hz. MDR-XB450 has a 30mm dynamic driver unit that delivers superior quality, powerful sound while keeping the bass level high.
The Power of Extra Bass
Having a massive driver unit for the size of the speaker housing, at 30 mm the MDR-XB450 surely packs a punch. These over-ears blast your eardrums and deliver unparalleled sound that is very clear. Whatever your playlist maybe, it is going to sound exceptionally great!
Comfort Redefined with Pressure Relieving Earpads
The earcups are padded well with ultra thick pressure relieving soft earpads. Sony has taken great effort in ensuring that the padding is that are lightweight and thus, does not hurt your head or ears. Even the headband is generously cushioned for a secure fit that feels pretty snug.
Make a Style Statement With Metallic finished Earcups 
Choose from 5 bold colours to make your style statement. These new headphones from Sony have been evidently made to have an uber cool sheen. The back plate of each ear cup has a metallic finish of concentric circles widely used in Sony's current headphones.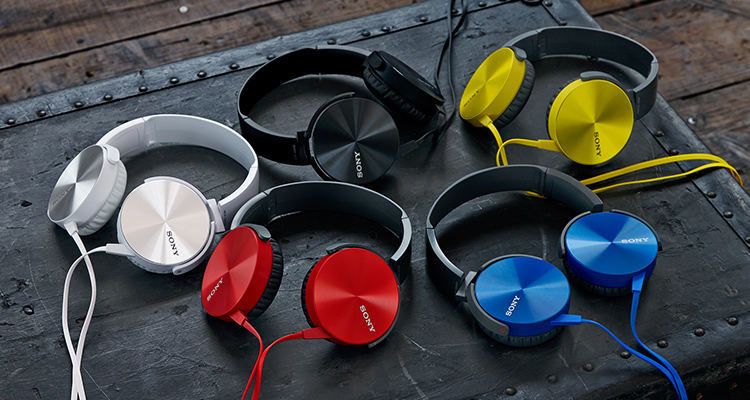 Flat Folding Portable Earcups
It has a folding design as well which makes it easy to carry around everywhere. Apart from offering portable comfort it also looks pretty sleek and will allow you to make an elegant style statement. Fold them flat and place them into your bad, and you are good to go.
Tangle Free Serrated Cables
Its serrated cord keeps those annoying tangles away making them a perfect fit for Music enthusiast on the go . Moreover, flat cables increase the durability of the headphones, making them last longer than usual.
Available in a Variety of Colours 
Most importantly experience Extra bass in your favorite color. The MDR-XB50s is available in a wide range of colour options. You can choose from fresh vibrant colours, namely- Black, Red, Blue, Yellow and White.
What's in the box:
Sony MDRXB450 Extra Bass Headphones
General specifications
Impendance: 24 Ohms
Cable type: Flat Y-Type
Plug type: 3.5mm 90°, Mini Plug
Weight: 165g
Order the Blue Sony Extra Bass Overhead Headphones and have it delivered to your doorstep within 1-3 working days or same-day delivery within Nairobi. Pay on delivery.